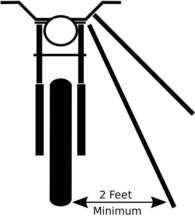 Tiedown Selection
Recommended                           Vehicle Weight
Number of Tiedowns
1 Pair                                   Under 300 lbs.
2 Pair                                   300 to 500 lbs.
3 Pair *                                  Over 500 lbs
*Motorcycles over 500 lbs should be secured front and rear.
ATVs must be secured with a minimum of 2 pair of tiedowns.
How to Use
Always chock the front wheel.
Attach to the handlebar or frame where the tiedown will not slip off.
The area of the truck or trailer where the tidown is hooked must be of sufficient strength.
Protect the strap webbing from sharp edges, hot surfaces and acids. DO NOT use if webbing is frayed.
Tiedowns are not to be used as personal restraints or for towing vehicles.
Place the tiedowns as shown.
On a motorcycle tighten until the fork springs are approximately 50% depressed.
A rear tiedown may not be necessary on a lighter bike but should always be used on larger motorcycles and atvs to prevent shifting during a sudden stop.
Cam Buckle Instructions
Place the hooks so the tail hangs downward. It is easier to tighten pulling downward than upward.
Pull the tail tight.
Use a half hitch to tie the loose tail below the buckle. This helps avoid wear of the strap as it lashes in the wind.
Ratchet Instructions
Release the ratchet by pulling the release tab up and open the ratchet to a flat position.
Pull all the webbing from the drum.
Lift the tab and position the ratchet in the closed position.
Work the handle approximately 5-6 clicks. This will position the drum opening slots parallel with the ratchet body when the ratchet is closed.
In this position the webbing will almost completely cover the spool. Only a very small part of the back half of the spool will show at the bottom edge.
This ratchet position will allow you to properly use the tiedown. Now place the tiedown on your motorcycle, ATV, etc. with both top and bottom hook in place.
Pull the webbing through the ratchet split drum until it is very tight (it will not loosen if the drum position is as described). Work the ratchet to tighten as necessary for good security.